WINES
Sauvignon Blanc
Marlborough Sauvignon Blanc is responsible for putting New Zealand on the world wine map and introducing elegant, cool climate wines to the world.  Marlborough's warm days and cool nights create an extended growing season allowing the grapes to develop beautiful acidity.  This balances the intense varietal characteristics of ripe grapefruit, white nectarine, and tropical fruits resulting in an elegant, refreshing, crisp flavoursome wine that distinctly says Marlborough Sauvignon Blanc.  Try this wine with fresh seafood, shellfish, sashimi or fresh asparagus with hollandaise sauce.
Learn More About This Varietal
---
Vintage Overview
After a lower yielding 2021 vintage, Marlborough was blessed with outstanding weather in December providing near perfect flowering conditions and a subsequent great fruit set. This translated into an increased number of berries per bunch, and helped offset the slightly lower than average bunch numbers which was a result of the cooler weather we experienced during flowering in 2020. The great weather conditions continued through January with above average daily temperatures and sunshine hours, punctuated by timely periods of rainfall. This ensured optimal soil water status giving great canopy development and health. Initially it looked like an early start to harvest but then we saw periods with cooler temperatures and increased rainfall in late January and early February. This slowed development and extended the ripening period with harvest commencing in the 3rd week of March and concluding at the end of April. The extended ripening period has led to wines with great balance and poise ensuring some outstanding components to go into this years' blends.
Vinification
The grapes were harvested in the cool hours of the morning and left on skins for six hours before gentle pressing. Some of the juice was fermented with cultured yeast in stainless steel vats at low temperatures, and a portion was fermented in new and old oak barrels with wild yeast. Following fermentation the wine was left on lees for two months before being blended and finished for bottle.
Flavour Profile
Passionfruit

Citrus

Pastry

Mineral
Technical Data
Alc

12.5%

TA

8.4 g/L

pH

3.12

RS

2.1 g/L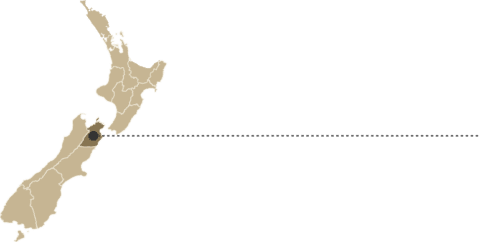 Vineyard Composition
Regional Overview
The Wairau Valley is one of three zones – along with the Southern Valleys and the Awatere Valley – which make up the heartland of New Zealand's Marlborough wine region. It accounts for approximately 45 percent of plantings within the wider region. An extensive patchwork of vineyards surrounds the town of Blenheim in the north-eastern corner of the South Island, near where the Wairau River meets the Pacific Ocean.
The Wairau Valley is a wide river valley that follows the Wairau River from the Spenser Mountains in the west to the Pacific at Cloudy Bay. The Richmond Mountains in the north separate it from the sunny region of Nelson, and the Wither Hills in the south protect the valley from harsh weather systems from the south-east.
In the low-lying area along the Wairau River Rapaura and Renwick are the most established zones. However in recent years vineyard plantings have extended further west along the narrow valley floor.
Wairau Valley has a warm, dry climate that is moderated during the growing season by sea breezes from Cloudy Bay. Hot sunshine during the day and cold ocean winds at night extend the ripening period in the grapes, leading to a balance of fruit complexity and acidity. This diurnal temperature variation is essential to the terroir in the Wairau Valley – without it, much of the classic punchiness of the wines made here would be lost.
Reviews
94 points

A powerful bouquet with pungent aromas of fresh herbs and apple, mango and peach, sage and passionfruit, oyster shells and crushed rock mineral qualities. On the palate - salivating and fruity, flavours of tropical fruits, apple and citrus invade the senses quickly. Flavours of peach and tangerine, sage and fresh apple follow. A delicious wine, balanced and ready with a lengthy finish. Great drinking from 2022 through 2025+.
Varietal FAQs
Where are your wines made?
All our wines are made on site in our winery. We draw fruit from our 15 estate vineyards, which means they are owned by us. We built our winery in 2002.
Is your Sauvignon Blanc dry?
We make 2 styles of Sauvignon Blanc and both styles are dry. Marlborough is known for out the glass zestyness and stunningly aromatic tropical fruits with bright citrus and stone fruit notes. Our Estate Sauvignon Blanc expresses all these characters with elegance and our Reserve Sauvignon Blanc has had some barrel fermentation which gives some added complexity and brioche notes in the wine
How can I keep the wine fresh once a bottle has been opened?
To keep an open bottle of wine fresh, ensure the cap is tightly sealed after every glass pour. Our white wines and rosé should be stored, cap on, in a refrigerator to slow down oxidisation. For our red wines, keep the wine bottle out of light and stored at room temperature (below 21 degrees Celsius or 70 degrees Fahrenheit), or in a refrigerator.
How long will your wine last when opened?
White wines are good for 1-2 days and red wines for 3-5 days if stored correctly.