WINES
Albariño
Albariño is pronounced Al-bah-ree-nio. Albariño originally hails from Galicia in Northwest Spain and is common in the Vinho Verde region of Portugal.  It was originally believed to have been bought to Iberia by Cluny monks in the 12th century, and the word Albariño means "white, whitish".  Albariño is refreshing and loved for its rich stone fruit flavours, a hint of salinity, and zippy acidity.  Superb with seafood dishes and white meats, Marlborough is a perfect home for this sassy grape.
Learn More About This Varietal
---
Vintage Overview
Warm settled weather in spring and early summer provided great conditions for flowering and fruit set, resulting in yields more aligned with the long-term average than in previous vintages.
The classic dry windy weather Marlborough normally experiences throughout summer was this year replaced with extended periods of cloud cover and rainfall, causing some initial concern from the viticulture and winemaking teams, however once ripening commenced the weather settled and remained fine and windy throughout harvest.
The increased soil moisture ultimately resulted in excellent canopy development and overall vine health, alleviating any initial disease concerns, and the reduced sunshine hours and cooler daily temperatures helped slow and extend the ripening period resulting in wines of intense concentration and poise.
Harvesting progressed smoothly with the favourable weather conditions allowing the winemakers to hang the bunches out on the vine to achieve optimum ripeness, with picking commencing in the 3rd week of March and completed before the end of April.
Vinification
Sourced exclusively from our Angler vineyard on the banks of the Wairau River, select bunches were carefully hand harvested in the cool of the morning followed by destemming and overnight skin contact. Gentle pressing to extract only the finest free run juice, followed by fermentation in small volume stainless steel vessels to retain the elegant floral aromatics and bright acidity. The wine was kept on light lees for an extended period post fermentation to help build texture and complexity on the palate, followed by finishing and bottling on the Wairau River estate.
Flavour Profile
Green apple

Lemon

Grapefruit

White Peach
Technical Data
Alc

12.4%

TA

8.3 g/L

pH

3.3

RS

5.25 g/L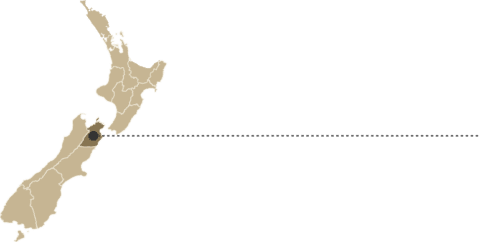 Vineyard Composition
Regional Overview
The Wairau Valley is one of three zones – along with the Southern Valleys and the Awatere Valley – which make up the heartland of New Zealand's Marlborough wine region. It accounts for approximately 45 percent of plantings within the wider region. An extensive patchwork of vineyards surrounds the town of Blenheim in the north-eastern corner of the South Island, near where the Wairau River meets the Pacific Ocean.
The Wairau Valley is a wide river valley that follows the Wairau River from the Spenser Mountains in the west to the Pacific at Cloudy Bay. The Richmond Mountains in the north separate it from the sunny region of Nelson, and the Wither Hills in the south protect the valley from harsh weather systems from the south-east.
In the low-lying area along the Wairau River Rapaura and Renwick are the most established zones. However in recent years vineyard plantings have extended further west along the narrow valley floor.
Wairau Valley has a warm, dry climate that is moderated during the growing season by sea breezes from Cloudy Bay. Hot sunshine during the day and cold ocean winds at night extend the ripening period in the grapes, leading to a balance of fruit complexity and acidity. This diurnal temperature variation is essential to the terroir in the Wairau Valley – without it, much of the classic punchiness of the wines made here would be lost.
Reviews
94 points 5 stars

It's fabulously ripe and inviting with apricot, green rock melon, apple and subtle spice aromas, leading to an elegantly flavoursome palate that's succulent and fleshy. Brightly structured by crisp acidity, making it mouth-watering and deliciously appealing. At its best: now to 2027.
Varietal FAQs
Where are your wines made?
All our wines are made on site in our winery. We draw fruit from our 15 estate vineyards, which means they are owned by us. We built our winery in 2002.
Can I visit your vineyard / winery and do you offer winery tours and tastings?
You can visit our restaurant where you can taste our wines and enjoy a beautiful lunch surrounded by vines, but unfortunately due to health and safety regulations we are unable to have visitors at our winery.
How can I keep the wine fresh once a bottle has been opened?
To keep an open bottle of wine fresh, ensure the cap is tightly sealed after every glass pour. Our white wines and rosé should be stored, cap on, in a refrigerator to slow down oxidisation. For our red wines, keep the wine bottle out of light and stored at room temperature (below 21 degrees Celsius or 70 degrees Fahrenheit), or in a refrigerator.
How long will your wine last when opened?
White wines are good for 1-2 days and red wines for 3-5 days if stored correctly.